With a wealth of experience, we know what works, which venues to consider and all the elements needed to deliver the perfect event.
Delighting Clients Since 1865!
1865
Established by Archibald Gray & Edwin Sandys Dawes
1927
Gray Dawes Group is acquired by the Inchcape family
2015
Gray Dawes Group makes its presence known in London by acquiring Travel Focus and Events in Focus
2016
Gray Dawes Group makes several acquisitions and becomes a Radius Travel Partner
2018
3 further acquisitions, including a specialist incentives business
2019
CEO Suzanne Horner appointed as first female chair of the Business Travel Association
To provide the highest levels of creativity and attention to detail to become a trusted partner to our clients.
The highest levels of personalised service and customer care. We offer a complete, flexible service to meet our clients' exacting demands.
Attention to detail, cost-effectiveness, creativity and tight budgetary control.
Our team of event management experts are bursting with ideas to ensure that your next corporate event is one that will never be forgotten (for all the right reasons). We only employ full-time staff, no freelancers, thereby ensuring that our clients receive the highest levels of attention and continuity.
All the members of the Gray Dawes Events team have many years experience in the tailored management of corporate events, from overseas conferences involving the movement of thousands of delegates to more intimate, no expense spared rewards for absolute top performers.
Erin Davey-Barrow
Director of Events
Erin has been in the event industry for over 15 years and after spending 10 years client side joined Gray Dawes Events in August 2023
Heading up the Events division Erin has a passion for all things events. Driven by client experience, there is no detail is too big to too small every one of them needs to be spot on.  Erin has worked in locations across the globe and has a wealth of knowledge across all facets of the perfect event.
Outside of work Erin is a keen runner and can often be seen pulling on her trainers and getting out into the fresh air.
Danielle Grubb
Team Leader - Meetings Management
Danielle has been with the Gray Dawes Group since 2007 and has worked across various departments including Business Travel, Marketing, Projects, and Online Systems support. Danielle previously worked in hospitality, including overseas and has never strayed too far from the Events and Travel industries. Now leading the Meetings Management team, Danielle supports the team in their day-to-day role and keeps her eye on industry news for new and innovative ideas to put forward to our clients to make their event strand out.
Outside of work Danielle likes to always have a trip in the diary whether that be a city break, concert, holiday or a bottomless brunch!
Craig Charles
Project Manager
Craig has a wealth of experience in managing events from start to finish both in the UK and overseas. He puts this experience to excellent use as a Project Manager delivering exceptional experiences for Gray Dawes Events clients.
Craig spends some of his spare time with his impressive – and ever increasing – Lego collection.
Joe Owen
Project Manager
Joe delivers experiential events, global incentives, and travel management services for corporate clients and professional sports teams.
As a project manager Joe will take the process from initial proposal stage through to onsite event management. During his time with Gray Dawes, Joe has executed events in over 20 different countries around the world.
Outside of work Joe is a keen golfer, having played college golf in the USA.
Jacqui Martins
Events Executive
Jacqui has been with Gray Dawes for over 15 years in which time she's built strong relationships with our clients, always putting customer service to the forefront.
Her expertise and experience within the industry is invaluable within the team and she is our go to person for her encyclopaedic knowledge of London-based venues (amongst plenty of others!)
Jacqui has a degree in European tourism and Spanish and has taught English as a Foreign language to kids inTaiwan to kids and companies in Madrid. She was also in a winning ladies league darts team for over 10 years in Colchester!
Jess Pengelly
Events Executive
Jessica has experience working in a variety of stage management and event roles from both the planning and on-site production of large-scale events like London Fashion Week, Matchroom Multi Sport and the BBC Proms.
She has experience and knowledge in the technical aspects of live productions and has achieved a first-class degree in stage and event management.
She consistently delivers exceptional quality of service for every event experience and is our go-to whenever we need to set the stage for a big conference or event!
Outside of work, Jess is often seen in London attending and singing her heart out to the latest production on West End.
Elle-Mae Martin
Events Executive
Prior to working at Gray Dawes Events, Elle has worked within the high-end hospitality industry.
She has worked in 5-star establishments and catered to a diverse range of customers, surpassing their expectations on every occasion.
From weddings and corporate meetings to large group accommodation bookings, Elle's knowledge of hotels is invaluable when searching for the perfect venue!
Outside of work, Elle is often found travelling down to the South coast of Devon, her old stomping ground!
Ruby Kerr
Events Executive
Ruby has a strong track record of delivering exceptional customer service which is a cornerstone of successful event coordination. She developed extensive experience in event planning and deep understanding of the needs our clients. 
Her understanding of the intricate details for each event, allows her to approach each brief with confidence and efficiency. Ensuring any logistical aspects are seamlessly managed, making Ruby reliable and dedicated to her craft.  
In Ruby's spare time she recently developed a creative interest for drama and acting. She joined a collective in Manchester who have performed multiple plays in front of different audiences.  
Nyasha Chidzidzi
Events Executive
A highly motivated and passionate Events Management graduate, Nyasha has experience across multiple event sectors. With her experience gained through her working in renowned venues and hotels, she ensures all events are planned and managed to the highest standard.
Having started and managed her own event planning company working on luxury picnics to product launches; she prides herself in creativity, versatility and the ability to take initiative. Nyasha's approach and confidence allows her to build strong relationships with clients, understand their needs and deliver beyond expectations.
In her spare time she enjoys travelling, clocking up 10 countries in 2023 (so far!)
Saffron Mattu
Events Executive
Prior to joining us at Gray Dawes Events, Saffron has worked for creative event agencies in London and Manchester as part of their event management teams, supporting the planning and delivery of large scale, luxury events.
With a first-class degree in event management and marketing, Saffron's skills enable her to confidently and efficiently support the team with meeting and accommodation bookings whilst developing and maintaining strong relationships with new and existing clients.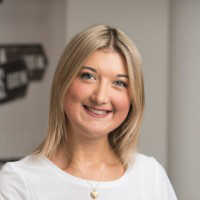 Claire Holmes
Events Executive
Claire has worked in the travel industry since the age of 19 after completing 2 years of travel and tourism at college, in which she achieved a double distinction.
Claire knew she wanted to work in the industry since she first stepped out of the plane on her first trip abroad at the age of 13.
Having worked her way up from a trainee hotel consultant to one of our expert events executive's, Claire loves working with the team and putting together conferences and events for our clients no matter how big or small they are!
Outside of work, she love spending time with my her friends… whether a meal & drinks at a favourite spot in Manchester or jetting off on a 2 week holiday with them to the Caribbean! She also follows her "boys in red" and is a regular at Old Trafford supporting Manchester United.
Olivia Floyd
Events Executive
Olivia has been involved in both the planning and onsite production of several large-scale events such as FIFA World Cup, The British Grand Prix and London Fashion Week.
She studied at London College of Fashion and likes to use her creative flair when it comes to venue find and event planning.
She is especially experienced in Customer Relationship Management and delivering a luxury experience.
Fraser Clements
Events Executive Apprentice
Fraser loves being part of putting on extraordinary events at Gray Dawes Events!
He has a great eye for detail, a flair for creativity, and a passion for crafting unforgettable experiences, whether that's a group meeting, corporate conference,  dazzling gala or anything in between.
Fraser goes out of his way to help ensure your event is not just memorable but truly exceptional.
In his spare time Fraser enjoys making short horror films and playing chess.
A Career With Gray Dawes Events
Head quartered in Colchester, but with offices throughout the UK, we offer competitive remuneration packages, a bright and positive working environment, varied and challenging workloads, and a healthy nurturing approach to work/life balance.
We're always interested to hear from talented individuals with a passion for delivering the very best event experiences. So if you think you'd fit the bill, check out our Careers page for the latest vacancies or just drop us a line with your CV.
Greater Than The Sum of Our Parts
We're part of the Gray Dawes Group – one of the UK's largest independent travel management companies. With specialist, award-winning divisions providing tailored services for business travel, luxury leisure travel and meetings & events (that's us!), we enjoy all the benefits that brings, both in terms of buying power and industry clout.
And that means an even better solution for you!
If you're looking to make your next event the next big thing, no matter how big or small, we'd love to hear from you.
Start a conversation with us by using the contact form on the right, or give us a call.